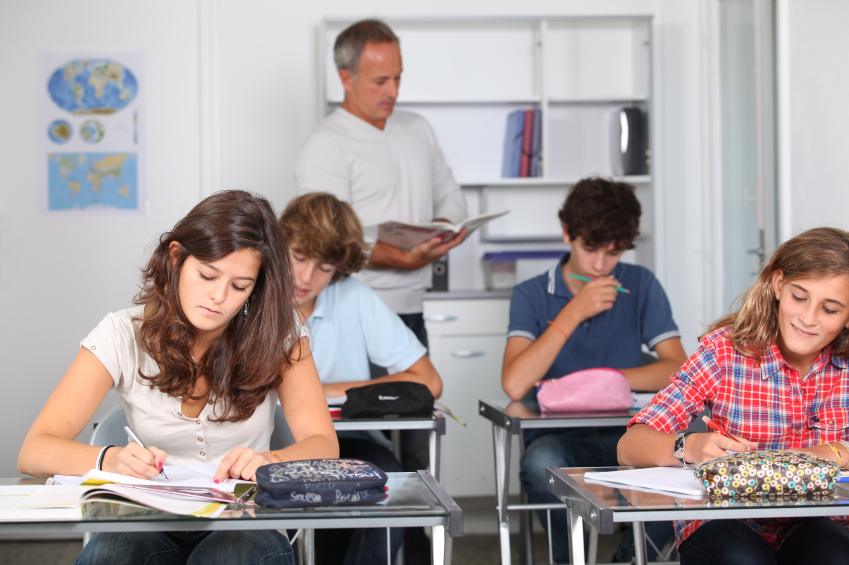 When they have completed Cambridge Primary students continue to the next level of development — Secondary 1. For pupils enrolling from other schools completion of an international-standard primary school is not obligatory.
| | |
| --- | --- |
| Years | Age |
| 7 year (KS3) | 11-12 |
| 8 year (KS3) | 12-13 |
| 9 year (KS3) | 13-14 |
Throughout their schooling students continue to develop their habits and broaden their knowledge in the basic areas:
English as a second language / English as a first language

Serbian as a first language (Serbian national curriculum)

/

Russian as a first language (Russian

curriculum)

Maths

Science (Physics, Biology, Chemistry)

Geography

Physical education
and optional subjects in more detailed study with exams (2 to 4 and more):
Second foreighn language (French, German, Spanish, Russian, Chineese)
English literature

— for future language majors, historians

Science extended (Physics, Chemistry or Biology

— for young scientists

History

— for young historians

Art & Design — for young painters, art specialists

Music — for young musicians

Design & Technology — for young designers and engineers

PE (theory) — for young sportsmen

Business studies — for young business people and managers
At this stage pupils may choose additional subjects that best fit their interests and in the next stages to study them in more detail. When choosing specialized subjects, the rules for taking exams and recognition of results at the university of the candidate's choice must be adhered to. When taking iGCSE exams, it is sufficient to choose a minimum two subjects in addition to the other three (English, Maths, Science). If the ICE option is taken, at least four additional subjects must be selected.
While at school, pupils are afforded the opportunity of taking basic complex tests in English language, maths and science. Testing takes place within the school at the end of the 7th, 8th and 9th years, using the internationally recognized Cambridge Progression Tests, thus providing parents with additional reassurance that the results of their children's education are reliable. Furthermore, should parents so wish, pupils may take the Cambridge Checkpoint tests, personally administered by Cambridge examiners.
If desired, pupils may be tested during the year in various subjects in their native language. These tests are aligned with the national curricula of Serbia and Russia.
Total
29
31
32
Weekly learning hours per subjects
Subjects\Age
11-12
12-13
13-14
Mother language (English, Russian, Serbian)
5
5
5
Additional language
4
4
4
Maths
4
4
4
Science
2
3
3
PE
3
3
3
Geography
2
2
2
Choosen subjects
9
10
11
Additional classes organised by the school are available outside teaching hours.